29th and 30th June in Udine + 01st - 03rd July in Villach
6 hours of short films, DJs, concerts, discussions and awards. Within the last years K3 Festival has established itself as the hub of international short film making and shows the possibilities of this new medium. The spectrum ranges from stunning art videos to technically brilliant animation movies, which are otherwise only known from Hollywood productions.
But not only the film programme is worth watching or listening to: there are also some musical treats that invite to Villach and Udine: Hans Platzgumer aka Aura Anthropica, a live visual performance of Clemens Kogler, the Viennese duo doubleBLU, the Friulian electronic trio Arbeiter, DJ Michael Moser and special guest Hans-Joachim Roedelius â a pioneer of techno music â are taking part.
Admission:
Festival pass**: â 23.- reduced* â 19.-
Single day ticket: â 9.- reduced*: â 7.-
Sunday: free entry
* for students, members of Ã1-Club
** incl. free shuttle (Klagenfurt â Villach â Udine, Bookings: + 43 0463/3870211)
Advance Booking:
From 20th June in City Cinema Villach, +43 01/88 0 88 (Ticket Online), at all tobacconists with âTrafikplusâ label, selected post offices, on www.post-ticket.at as well as in ticket offices and travel agencies with a connection to Ticket Online and on k3.festival.com.
Some hot advice â not only for movie lovers!
For the complete programme guide and further information go to k3festival.com.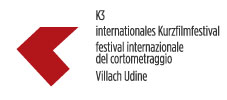 Attend the K3 festival from June 29th to July 3rd 2011
For further information go to k3festival.com
Join us on facebook.com/K3Festival